"
width="490"
height="183">

Presents

November Jewelry Designer

Cary Martin

"I guess my designs are a synthesis of
my art education, love of everything
vibrant and my sense of personal style..."

In the midst of the orange groves just outside of Orlando, Florida, you will find
jewelry designer, Cary Martin, dreaming up her next creation.

Bead Artist Dee Howl

"I became interested in crafting jewelry in the late 80's when noticing a bead and
thread necklace my mother was constructing. She taught me the technique and
jewelry design has had a very serious addiction ever since! Cary realized her
talent very shortly after she made her first piece in 1988. She now proclaims, "I
love designing jewelry."

"My mother, who is a huge artistic influence in my life, taught me basic wrap
techniques and color characteristics." She says, "I am really getting into
wirework lately. That is my latest craze, and I love studying the metaphysical
properties of gemstones."

Cary's designs have been described as very eclectic, though Cary admits, "I
really believe that word is overused and does not have the meaning it once did,
but I do enjoy many different themes." Some of the themes she enjoys and uses
are beach designs, bold dichroic pieces that have a very futuristic look, and very
recently she is "falling in love with hollow beads." Cary attributes her love of all
things artistic to her mother, who Cary says, "is an amazing artist." Each of her
pieces is made as individual works of art. Cary's designs also come from a love
of clothes. Her original designs were designed for herself and friends; pieces that
were for a particular outfit. "I guess my designs are a synthesis of my art
education and my love of everything vibrant and my sense of personal style,
formed from a love of adornment and artistic expression," she says, adding,
"They are originally formed in my mind, (usually just before I fall asleep or right as
I am waking up) sketched and then constructed. I will say I am not crazy about
symmetry. My mother always said, nature is not symmetrical, why should we
design that way? She also instilled in me a desire for perfection. I have been
known to make a piece 3-4 times because it was not perfect, or didn't hang or lay
just right."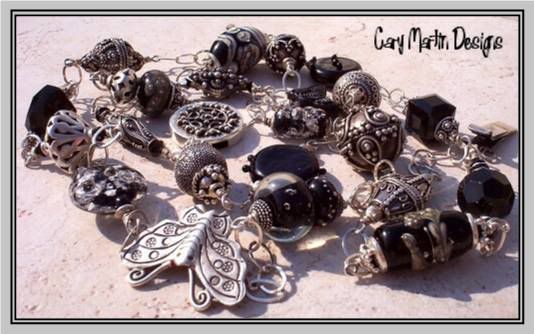 Bead Artist BJ Canerday

Cary has found a deep love for lampwork beads. She says, "I love everything
about them. I am constantly amazed at the beauty of, and creation of
lampwork, and the expanding designs" adding, "what a medium glass is!"
Cary states, "I love to design with lampwork. [T]he beads are little pieces of
art and thus make my designs artwork!" You will find Cary sitting and looking
at the beads for hours! "I love my mother's beads, and I also buy a lot of
Karen Leonardo's beads, Beau Haun, Brendan Blake, Candice Mathewson,
and Lori Robbins. I can go on and on. I love just about every lampwork
bead I see!"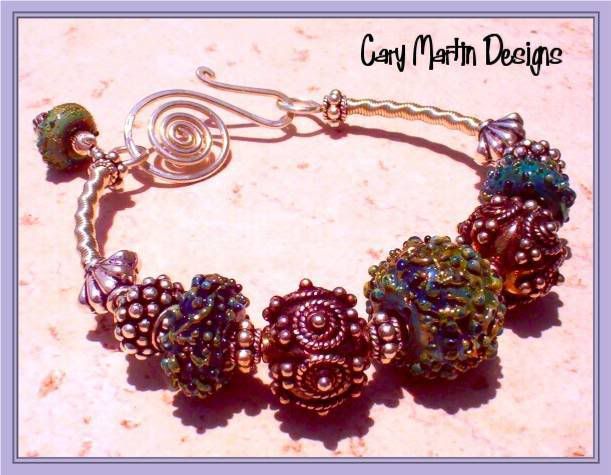 Bead Artist Iris Bucholtz

Inspiration appears to come easy for Cary. When asked if the beads or
components give her inspiration for her designs, she replied, "It all depends;
sometimes a bead will lead me to a design and sometimes I see a design in my
mind, and find the beads to bring it out as best as I can. They have a life of
their own, and I REALLY believe I have a Muse. I thank them all the time."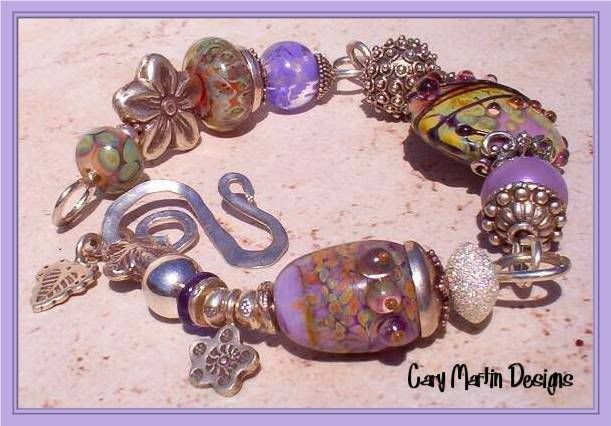 Bead Artist BJ Canerday

Cary likes all styles of jewelry, but loves to make bracelets, earrings and
anklets the most. She finds the most satisfaction in seeing the final piece, and
then having someone see what she sees in it, and then purchases it!

Bead Artist BJ Canerday

Cary's jewelry designs can be found on auction sites, local
galleries, and at trunk shows. Designing jewelry is Cary's full
time job. Her designs sell for $25.00 up to hundreds of dollars
for a single piece. She hopes to have her work in more galleries
and would like to teach in the future. "I have really been doing
a lot of commission pieces lately. I love to work with
individuals to design personal pieces for weddings and that
special occasion. I recently had a piece I designed for Mary
Jarvis of Bayou Beads, on the cover of Belle Armoire! That was
an amazing experience," she says.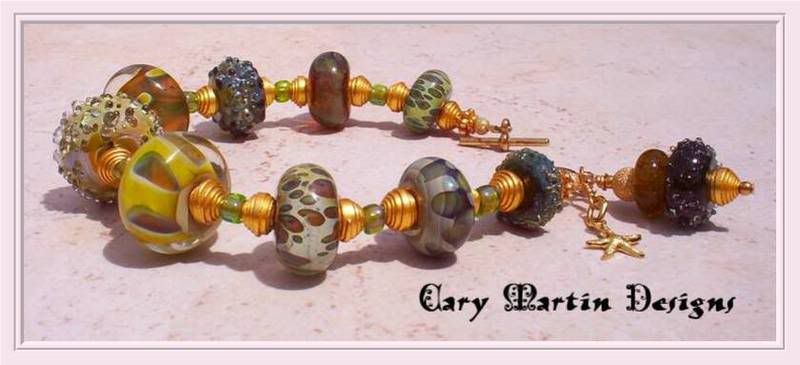 Bead Artist Iris Bucholtz

Cary says that the last piece is her current favorite. "I do have
an amulet bag that I made years ago (took me months) that had
so much of my energy in it. That is probably my very favorite
piece. I will never sell it," she says.

Bead Artist Sara Creekmore

When offering advice to others wishing to design jewelry, Cary
exclaims, "I think the best tool is organization (for me). I know
other designers that thrive in chaos. I just can't." A



You can see more of Cary's jewelry designs at:

Editorial Contribution by Elizabeth Long